DIY (Do It Yourself) Awnings was created for homeowners who are handy and are looking to save money – big money.
We know retractable awnings and have a quarter century of awning manufacturing experience.
Online customer support
Online customer support
Our tech team is ready to assist you through our live chat!
Secure payment checkout
Secure payment checkout
Your privacy and security are our top priority.
Express delivery options
Express delivery options
Need something fast? We've got you covered.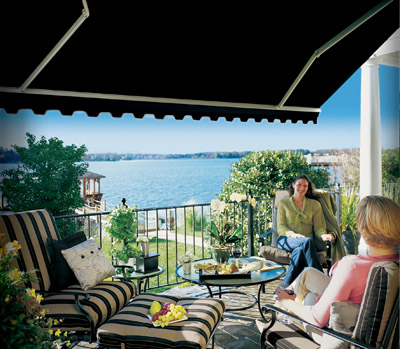 What makes DIY retractable Awnings different?
We offer the highest quality DIY awnings available.
Our team of skilled craftsmen will produce a custom-made, long lasting shading system that will provide years of trouble free solar protection. We use the finest materials available from North America and Europe. We do not import any materials from China, which is very common in this on-line awning market. You know the old adage, "You get what you pay for" and retractable awnings are no different.
We have seen some of the low cost retractable shading products offered on-line with most coming out of China Practices, such as, the hand cutting of fabrics, non-computerized sewing, cheap poly thread, burnt fabric edges, polyester fabrics, wet painted awning frames and non stainless hardware are common; you would never know that this is what you are purchasing by simply looking at a picture. Be sure to view our educational link 17 things to ask before purchasing a self installed retractable awning.
*We only ship to the contiguous 48 states.
*For purchases in Canada, please call 905.477.8766.
01
Built & Sourced Locally
Assembled in the USA
Your source for high quality shading solutions assembled in the United States.
02
Rated #1 Manufacturer
10 years and running
Rated #1 Retractable Awning Manufacturer By Retractable Awning Review.
03
Average customer rating
4.8 out of 5!
Independent service rating powered by Feefo.
Select Your Awning
Choose from our amazing selection of top-rated awnings.
Customize It
Design the awning you always wanted, your way.
Manufacturer Direct
Once we get your order, we'll do our part and ship it right away!
Install & Enjoy
Assemble your awning, and enjoy top rated UV Protection.
Custom Made Awnings Without the Dealer Costs
Your deck or patio awning can increase your outdoor living enjoyment, while reducing indoor cooling costs and protecting you and your furnishings from the sun's harmful UV Rays.
Awning Fabric Replacement
Need to replace your awning's fabric due to wear and tear or discoloration? We've got you covered. Visit our fabric cover replacement page here.
Awning Valance Replacement
Need to replace your awning's valance only? We've got you covered. Visit our valance fabric replacement page here.